Posted by Reggie in
Highlight on Programming
,
Programming Specials
on March 16th, 2013 |
Comments Off

on Your Guide for a Green Weekend
SiriusXM is reprising its annual celebration of St. Patrick's Day! All weekend listeners will hear traditional and contemporary Irish music as a soundtrack to their celebration. Larry Kirwan (host of Celtic Crush and frontman of Irish rock band Black 47), will share drops of Irish wisdom, fun facts about Irish artists, traditional Irish toasts, limericks and more between exclusive performances recorded at the SiriusXM studios from Irish bands like The Cranberries, Flogging Molly, the Dropkick Murphys and Glen Hansard.  Also available online and on apps at Limited Engagements 3 Ch 714 in the Rock category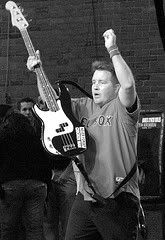 Ken Casey Guest DJ
Sun @ 6:00 pm ET
Irish Punk Rock Icon Ken Casey of The Dropkick Murphy's visits the E Street Radio studio's just in time for St. Patrick's Day! Tune in for this Guest DJ session to hear Ken take you on a musical journey through his favorite Springsteen songs and share memories of performing and recording with Bruce.
Bruce/Dropkick Murphys- American Land (Live)
Bruce- It's Hard To Be A Saint In The City
"Magic"- Radio Nowhere
Dropkick Murphys/Bruce- Peg O'My Heart
From "Greetings…"- Growin' Up
From "Born In The USA"- No Surrender
Live In New York City- Tenth Avenue Freeze-Out (Live)
From "Greetings…"- For You
From "Born To Run"- Thunder Road
Dropkick Murphys- Rose Tattoo
From "Born To Run"- Born To Run
St Patricks Day Headtrip
Sunday @ 3pm until?
A ride take you to a space, a place, a time to transcend the ordinary. On Deep Tracks take an excursion into deep classic rock's common themes, in an uncommon and amazing assemblage of head trips. From the sublime to the ridiculous, the familiar to the obscure, the spacey to the intense; the rides last from 20 minutes to an hour.

Eire go Brach!
Sunday 6-10am
Ireland Forever! Celebrate St. Patricks Day with us ( don't forget to wear a wee bit of green) with live performances from Lunasa and Cathie Ryan from our studios! Slainte! Available anytime On Demand on siriusxm.com.
Meg Griffin's Disorder
Sunday 3-6pm
Meg Griffin's DiSOrdeR Goes Irish From the Pogues to Christy Moore… Chieftains to the Undertones… James Maddock to Sinead… Even John Lennon sings of the Luck of the Irish and Gracie will be there. A dISordeRLy celebration of St Patrick with your and soda bread
From the Living Room to the Loft
Sunday @ 7pm
Culture Ireland Irish Music Showcase hosted by Susan McKeown featuring Realta, I Draw Slow, Spook of the 13th Lock, & The Allen Kelly Gang
FACTION's  Green Puke!
Starts Friday at 7 pm ET and runs all weekend
It's FACTION's Green Puke… all St Patrick's Weekend! Music from Irish Punkers like Dropkick Murphys, Street Dogs and more. Plus, you'll get an exclusive concert performance from FLOGGING MOLLY! 
FACTION's Green Puke! Flogging Mollys Exclusive Concert
Today @ Noon; Sunday @ 12:00 & 5:00 pm ET
It's an exclusive concert with FLOGGING MOLLY as part of Faction's Green Puke weekend celebrating St. Patty's Day.