Posted by Reggie in
Highlight on Programming
,
SIRIUS XM Events
on March 7th, 2013 |
Comments Off

on Town Hall with Bon Jovi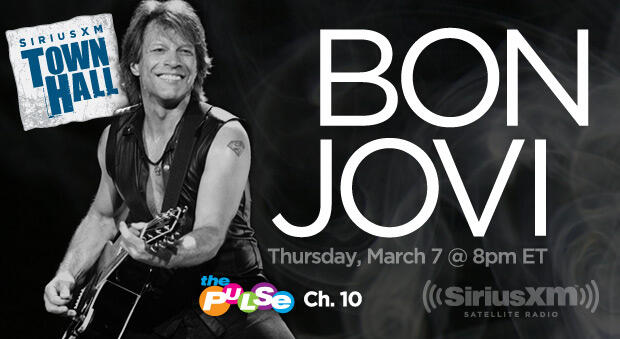 "SiriusXM's Town Hall with Jon Bon Jovi," moderated by Savannah Guthrie
"SiriusXM's Town Hall with Jon Bon Jovi" and moderator Savannah Guthrie will premiere on Thursday, March 7 at 8:00 pm ET on The Pulse, channel 10. The "Town Hall" will be rebroadcast on The Blend and Hair Nation. For rebroadcast times, please visitwww.siriusxm.com/townhall.
The "Town Hall" special will include Jon Bon Jovi answering questions from the studio audience about a variety of topics, including Bon Jovi's "Because We Can – The Tour," the band's new album, What About Now, Jon's philanthropic endeavors, his thoughts on the future of the Jersey Shore and more. What About Now features the lead single "Because We Can," which is rapidly climbing the Billboard radio charts.
The special is part of SiriusXM's "Town Hall" series, intimate gatherings with iconic musicians, entertainers and figures and a studio audience of SiriusXM listeners. Previous "SiriusXM Town Hall" specials have featured Bruce Springsteen, Willie Nelson, Tom Petty, Taylor Swift, Jason Aldean, Aerosmith, Coldplay, Ringo Starr, Roger Waters, Gregg Allman, Linkin Park, Crosby, Stills and Nash, Ziggy Marley and the surviving members of Nirvana.